Finding the ideal storage solutions befitting your individual needs is a surefire way to harmonize your living space and optimize your work efficiency. Hence, Simplify Valet Storage & Moving NYC is dedicated to accommodating your specific storage needs. All the while, we save you time, energy, and hassle. You can benefit from our on-demand valet storage services and enjoy a seamless user experience. Besides, we offer innovative packing options for your immaculate organization and the optimal safety and protection of your valued possessions. Our simplify storage bins are practical and versatile solution you will love. Find out more about the benefits they come along with, and how can you combine them with our premier storage and moving services. Give us a call and let us provide you with your ideal storage and moving services in NYC.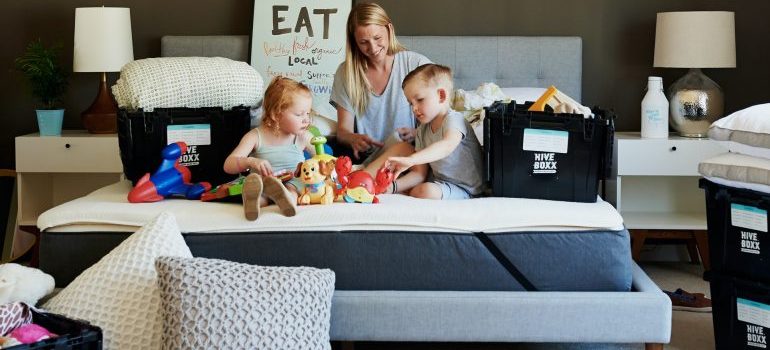 Simplify storage bins for the optimal care of your belongings
The quality of packing materials plays a vital role in the level of protection your items get. Most people go for cardboard boxes when they need to pack items. But, this is certainly not because those are the best option available. There are alternative solutions that not just render much better protection, but are more cost-effective and an eco-friendly choice. We are talking about simplify storage bins.
Much like moving bins, the Simplify Valet Storage & Moving NYC storage bins keep their structure better than standard cardboard boxes. Hence, your items get better protection from moisture and potential damages with bin storage NYC. So, if you are looking for the ideal packing solution for your possessions, consider our storage bins on offer. Combine them with our premier storage services and enjoy real peace of mind. This will come with the knowledge that your valuables are provided with the ultimate care and safety. Do not hesitate and do give us a call to find out what size, shape, and material is an ideal choice for your specific needs.
How can you use storage bins?
Our storage containers are a versatile storage solution. They come in several shapes and sizes to fit your needs. Being made of durable and resistant materials, you can use them to stash away things that need reinforced protection, such as papers and documents. Besides, bin storage NYC is great for keeping items made of hard materials, such as hand tools, bolts, and a vast array of other items of all sizes. You can stack simplify storage containers in neat piles and use them as the perfect self-storage solution at home or in the office. Your delicate and fragile items will also get adequate protection in a storage container, rather than a cardboard box. Place smaller bins into larger ones to maximize your storage space. The intended use of storage bins allows you to be creative and flexible.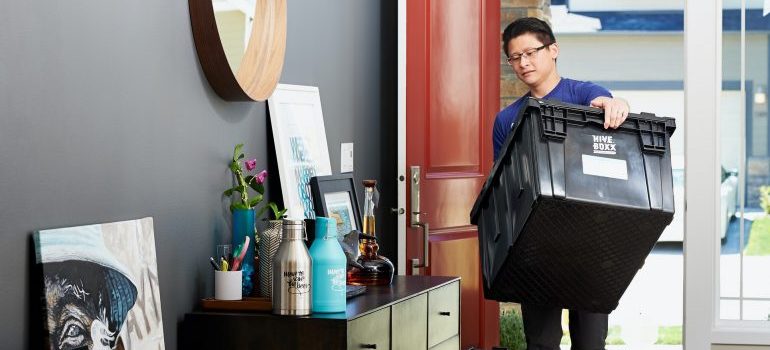 Benefit from the simplify storage bins and expert packing services
At Simplify Valet Storage & Moving NYC we offer various packing materials to fit your specific needs. However, we recommend simplify storage baskets as the optimal packing supply for the items you intend to keep in storage. As we mentioned, these are fantastic options to secure self-storage for a neat organization. Moreover, you can use bin storage NYC to pack your things while you leave them in our safekeeping.
Packing can be a drag, and we can save you from it. Our team will pack your items safely, neatly, and in a fraction of the time that will take you to do it yourself. Thus, book your expert packing services and let the dexterous crew at Simplify Valet Storage & Moving NYC save you time and energy. Give us a call today and we will deliver your storage bins to your doorstep.
Enjoy the perks of our premier valet storage services in NYC
The Big Apple is notorious for its short supply of space in any regard. This means that finding safe storage solutions is often a challenge. However, Simplify Valet Storage & Moving NYC offers you a swift and convenient option that you can secure from the comfort of your home. 
Our valet storage services will save you time, energy, and money, as you do not need to go any further than your doorstep. The only effort you need to do is to give us a call, and book your services. We will deliver your simplify storage bins, and you can pack them up yourself, or let our expert team do it for you. Once you are ready, the professional team of local movers at Simplify Valet Storage & Moving NYC will pick up and deliver your items safely to our facility. Through our user-friendly online app, you can keep track of your possessions at all times, and with a simple click of a button order them delivered back to you.
Hence, make good use of our white glove storage services, and request your free storage estimate today.  The quote you will get is personalized, all-inclusive, and with no strings attached. 
Enlist our team of seasoned local movers for a seamless relocation experience
Simplify Valet Storage & Moving NYC aims to provide the best moving and storage services available in the Big Apple. From superior quality storage bins to moving your business throughout NYC and everything in between, the range of moving services we offer is sure to cover all aspects of your move.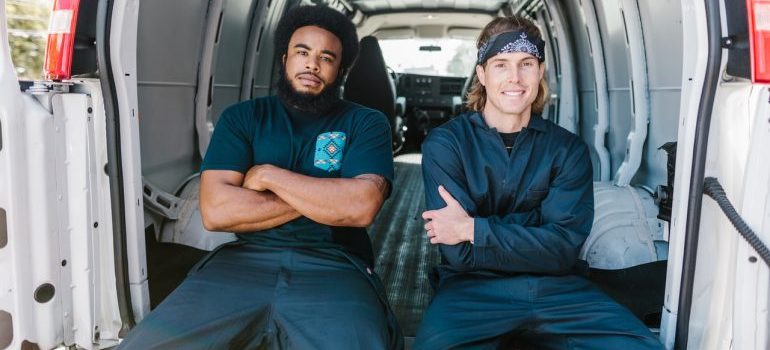 Our crew is local moving experts. They know the ins and outs of NYC and will ensure your quick, safe and easy transfer. So, fill in our online form to get your free moving estimate. Count on us to help you plan your move in fine detail. Rely on Simplify Valet Storage & Moving NYC to carry out your moving project and ensure your moving expectations are met and exceeded.
Get your simplify storage bins today – Contact Simplify Valet Storage & Moving NYC
No matter if you are moving or looking for a storage provider you can trust, Simplify Valet Storage & Moving NYC has you covered. Our main goal is the satisfaction of our clients. Thus, the quality of services we offer is second to none. Besides, we pride ourselves on providing unparalleled customer service and care. So, benefit from our offer, and contact us today. From bin storage NYC to swift move throughout the Big Apple, we will provide you with all you need, at your leisure. You will surely appreciate the experience of working with us.
How It Works
1
Reach out to Simplify Valet Storage & Moving
Contact us directly or get a free, non-obligatory moving and/or storage (with pick up and delivery).
2
Simplify your packing process
Use our quality bins and supplies to pack your possessions on your own terms or let our packers handle the job for you.
3
Let us pick up and safely transport your belongings
We'll provide trucks and professional movers NYC to carefully move all your items to our storage facility or the location you're moving to.
4
Get your belongings back whenever you need them
Keep track of your items through our online customer app and get them back at your doorstep.