Tips for setting up your home office in Financial District
The Financial District is often associated with a vibrant hub, the stock exchange, and suited professionals. But, the area has so much more to offer. It provides a calm atmosphere with some fantastic views for comfortable residential living along with a stimulating work environment. Doesn't it sound like the dream place to have your home office in? Because it really is. Our savvy movers NYC will help you relocate your residency here with ease. Besides, our experts will share with you the best tips for setting up your home office in the Financial District. So, take note and get prepared for a move that will benefit you personally and professionally. 
Before laying out a home office in Financial District
Are you planning a move to a new abode in the Financial District? If so, you are in for some great changes in your quality of life. The Financial District is one of the best places to live and work in the Big Apple.
Before anything else, make a point to hire experienced Financial District movers and kickstart the new chapter of your life on the right note. If your move goes wrong, you will feel the bitter taste of the experience for a long time. Hence, step up your game and enlist seasoned movers that know the ins and outs of the area. A swift move will enable you to simplify complexities that treat to drain your energy and enthusiasm. Thus, secure your comfortable relocation and allow yourself to indulge in the joys of moving. Settle in your new home without feeling worn out, and tackle the project of preparing your new home office in Financial District with relish.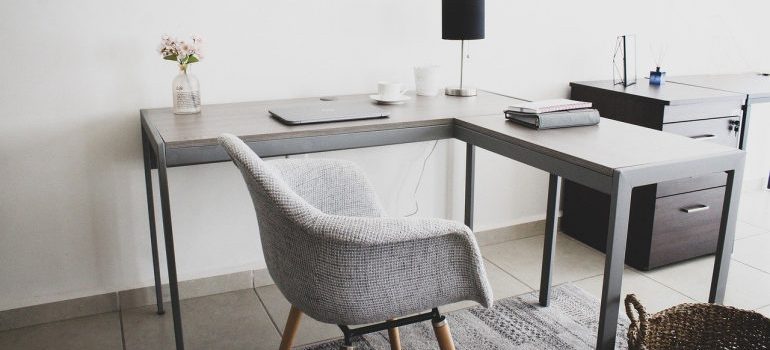 How to organize your home workspace in the Financial District?
Working from home has many advantages. Thinking about a commute within a minute comes as a blessing in the busy NYC. While doing your job from the comfort of your home offers you flexibility and lower stress levels, to ensure your productivity you surely need to set up a proper workstation in your Financial District home. This takes more planning and action than merely designing the space to your taste. Your art movers NYC transferred your delicate treasures flawlessly, so you can't wait to put them on display at your new home-based headquarters. But this comes as the cherry on the cake. First, follow our effective tips to lay the grounds for your workspace that will stimulate your productivity. Here is the outline:
Location
Comfort
Storage
Light
Find the perfect spot in your home
If you have a vacant room in your household, picking the location of your home office is a piece of cake. Space can be a bugging question when it comes to organizing your home office in the Financial District. Anyway, a bit of creative thinking will account for the perfect aftermath. Hence, envision your ideal workspace and think about the pragmatic sides of using it daily. Will you mind setting and resetting your work base on a large kitchen table, for instance? If this doesn't sound appealing, check out vacant corners and maximize the space in your home by setting up your workstation in one of those.
Besides, when choosing the ideal spot for your home office, factor in privacy. Unless you live alone, consider who else is using the space you intend to convert into your Financial District home office. You can use privacy panels or even curtains to help you signal you're busy once you throw yourself to work from home. Also, if you have clients dropping by, it will be best to pick a spot near the entrance and preserve the privacy of the rest of your place. Finding the right place to set up your office is perhaps the biggest challenge of the project, especially if your living space is limited. Once you sort this out, the rest will go smoothly.
Ensure comfort and invest in supporting your physical health
Most of us spend long hours sitting at a desk daily. It might be tempting to grab a chair from the dining room and give it a status of your work operations throne. But your spine will certainly object to this unwise decision. Expert local moving companies NYC will transfer your existing office furniture to your new place, and even offer you solutions to keep it safe while you find its appropriate place at your new home. However, if you don't have quality amenities to support your long-term posture health while working from home, it's about time to make an investment.
Get a quality ergonomic chair that will last you a long time and ensure your optimal comfort. Besides doing a great favor to your back, the level of comfort reflects on your productivity too. You can't possibly expect to do your work from home effectively with divided attention running towards the aches in your neck. A desk with the right height is essential as well. And with the furniture ticked off the list, you have successfully completed the basic layout of your home workspace in the Financial District. Now, let's polish the details, that can keep your work flowing if handled right.
Stay organized in your home office with convenient storage
Whether you operate your office from home or in a commercial building, the mess that can arise is a common feature. You may not think so when you move in, but just give it a few weeks. Space is an issue when you work from home, and even more so when you need to think of storage solutions. Bulky cabinets and shelves are obviously not the way to go. So, prevent your home from clutter and benefit from valet storage services. You'll get them right at your doorstep. This will save you valuable time and you can run your business from home without inconveniences. Stash away items and papers you don't need to use for a while. This is the perfect way to run your home workstation in Financial District with ease and efficiency.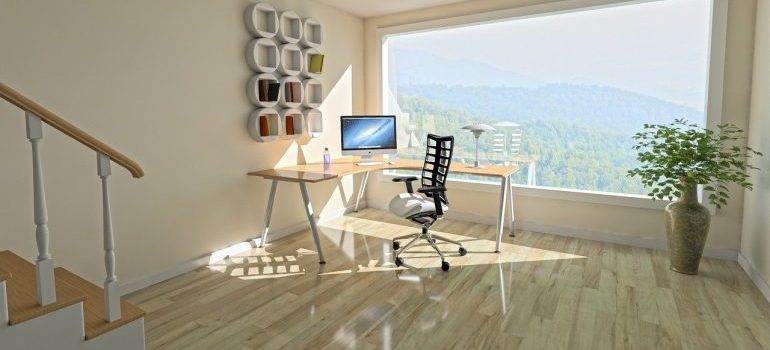 Pay attention to the lighting in your home office in Financial District
Light is often overlooked when you work from a home office. However, it's an important part of your working environment. The light can dictate your energy levels and concentration. Of course, the best choice is lots of natural light. But if you can't find a good spot to ensure that, and for your late-night working hours, get yourself some nice lighting fixtures. Luckily, these come in a wide variety to fit your needs and budget.
In summary, follow our simple but effective tips for setting up your perfect home office in Financial District. Benefit from our expert moving and storage services for the quick and easy completion of your project.
How It Works
1
Reach out to Simplify Valet Storage & Moving
Contact us directly or get a free, non-obligatory moving and/or storage (with pick up and delivery).
2
Simplify your packing process
Use our quality bins and supplies to pack your possessions on your own terms or let our packers handle the job for you.
3
Let us pick up and safely transport your belongings
We'll provide trucks and professional movers NYC to carefully move all your items to our storage facility or the location you're moving to.
4
Get your belongings back whenever you need them
Keep track of your items through our online customer app and get them back at your doorstep.